Greater Indigenous participation in caring for country activities is associated with significantly better health. Although the causal direction of these associations requires clarification, our findings suggest that investment in caring for country may be a means to foster sustainable economic development and gains for both ecological and Indigenous peoples' health.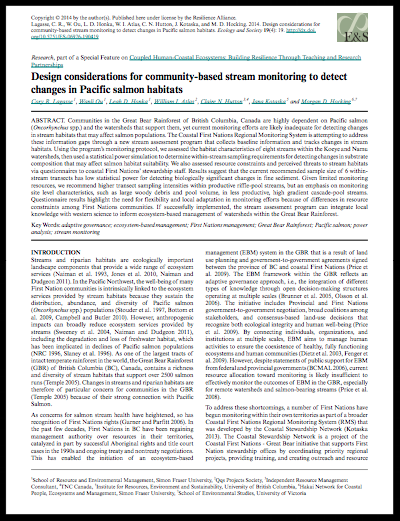 The Coastal First Nations Regional Monitoring System is attempting to address these information gaps through a new stream assessment program that collects baseline information and tracks changes in stream habitats important for salmons. Results suggest that the current recommended sample size of 6 within stream transects has low statistical power for detecting biologically significant changes in fine sediment.
This thesis examines the cultural concept and role of the Land as healer in Indigenous communities in the Northwest Territories, Yukon, and Nunavut, and the importance of facilitating modern Land-based programs and activities for integrated health, education, and environmental outcomes.
In addition to economical and environmental benefits, EMS programs have the potential to improve the health of the participants. This one-pager summarizes and reviews the context and the key elements of Webinar 5: Healthy Country Healthy People