Drawing on the results from a choice experiment with two Canadian First Nations groups, this paper examines whether communication in a group-setting influences individual preferences for three land use alternatives: Industrial Development, Tourism Promotion, and Conservation & Restoration.
The key ambition of this study was to build a shared understanding on the economic future of Clayoquot Sound, and how all groups can collectively work together to transform, rather than adapt to the future. The main part of this work was the transformative scenario planning (TSP) approach, where the goal was for participants to develop stories around possible futures, and to reflect on risks and opportunities in the region, including those which could be unexpected.
In partnership with the Tla-o-qui-aht First Nation and the District of Tofino, GVS is advancing pilot projects to build First Nations Ecosystem Management and Stewardship (EMS) in Clayoquot Sound. EMS programs have the potential to (1) diversify the local economy; (2) produce jobs for First Nations and youth; and (3) help sustain the environment in the region and maintain the competitiveness of the local tourism economy.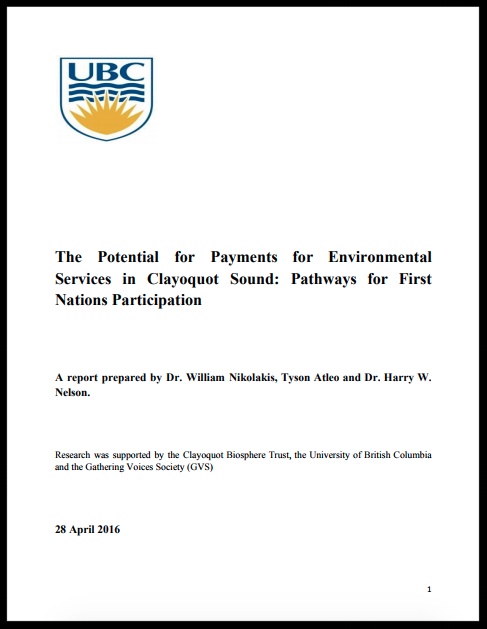 This paper seeks to answer the following questions to further dialogue on PES (1) to understand and document any PES programs in Clayoquot Sound; (2) to assess the acceptability of PES among a broader group of stakeholders (industry, civil actors, NGOs and the general public); and (3) to explore the potential of PES for First Nations and describe what this involvement will look like. To answer these questions we conducted five focus groups and a discussion in March and April 2016.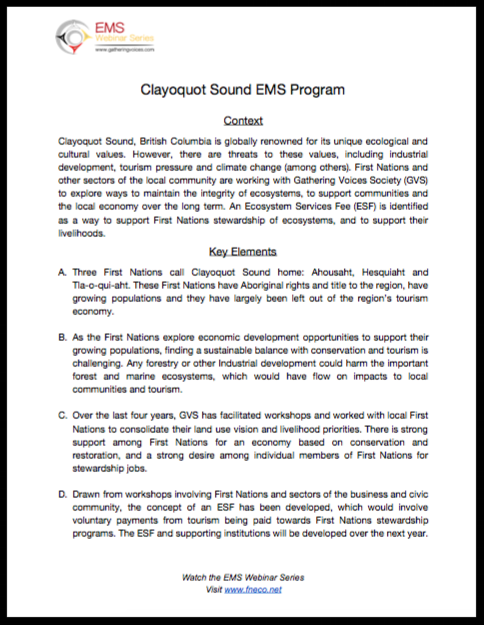 What does an EMS program look like in the real life? This one-pager summarizes and reviews the context and the key elements of Webinar 6: Clayoquot Sound EMS Program